Regular price
Sale price
$18.00
Unit price
per
Sale
Sold out
Low stock: 4 left
Our Tobacco & Caramel Soy Candle is an unexpected medley of sweet caramel and aromatic tobacco leaf, coming together in perfect harmony to create a distinguished scent that will fill your home with warmth and sophistication.
The subtle interplay of warm oak and patchouli adds depth and dimension to the fragrance, while the base of sweet sugary caramel perfectly balances the earthy tones, creating an extraordinary aromatic experience that you won't forget.

Don't deny yourself the cozy embrace of our Tobacco & Caramel Soy Candle. Add it to your cart now!

Fragrance Notes: Orange, Tobacco Leaf, Lavender, Wood, Patchouli, Caramel, Vanilla, Musk

Hand poured and heart filled, our candles and wax melts are crafted with premium soy wax and infused with phthalate-free fragrance oils, ensuring a long-lasting and luxurious aroma that'll make your space feel oh-so-inviting. No need to worry about harmful toxins polluting your cozy home! Our candles are created with eco-friendly practices in mind, from responsibly sourced domestic soy wax to our recyclable packaging.
Share
View full details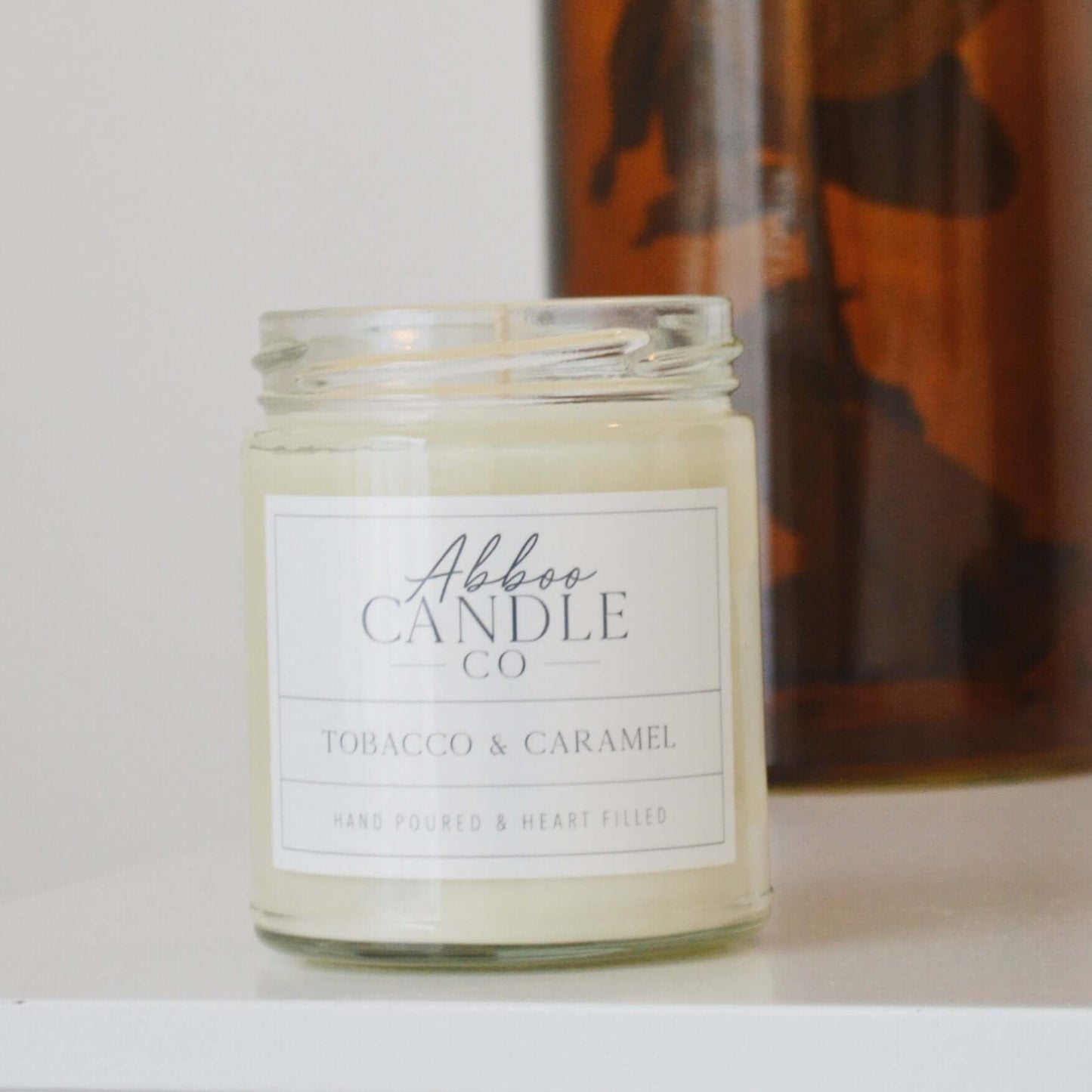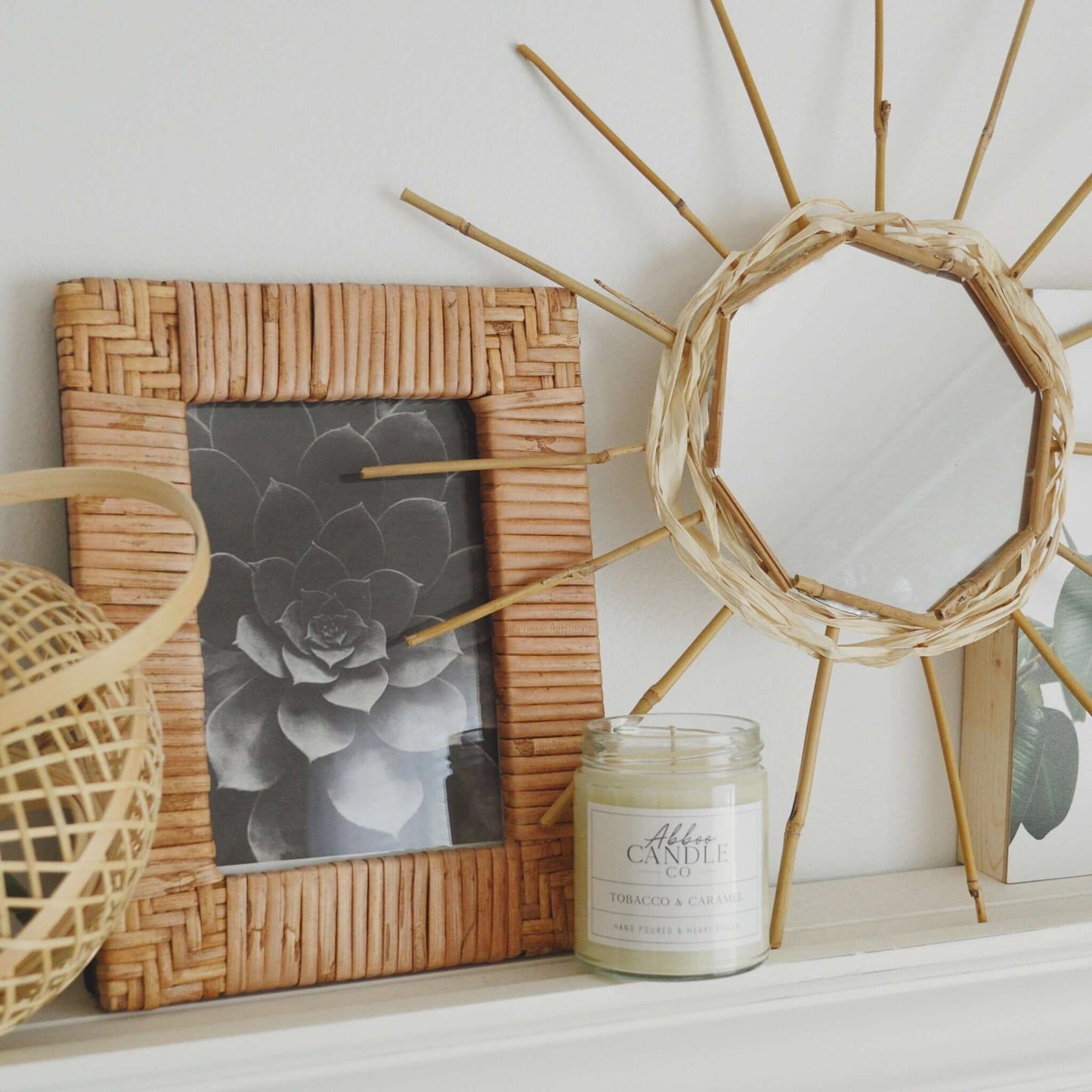 Collapsible content
Candle Care

• Always burn candles within sight and out of the reach of children and pets.
• Allow the wax to melt completely across the top of your candle before extinguishing to avoid tunneling.
• Keep candle wicks trimmed to 1/4-1/2" and remove the wick trimmings or debris prior to lighting.
• Discontinue use when 1/4"-1/2" of wax remains.
• Avoid burning candles for more than 4-6 hours at a time.
• Never touch a burning candle. Use a snuffer to properly extinguish flames.
• Do not flush or pour wax down drains.
• Keep a burning candle out of drafts or near/on anything that may catch fire.
Candle Sizes & Specs

Single Wick Candle
• 9 oz (7.5 oz net weight)
• Average 50 hours of burn time
• 3.5" height x 2.75" diameter
• Ideal for small to medium-sized spaces


3-Wick Candle
• 20 oz (17 oz net weight)
• Average 90 hours of burn time
• 3.63" height x 4" diameter
• Ideal for medium to large-sized spaces
Clean Ingredients

Biodegradable Soy Wax
Soy wax is biodegradable and comes from a natural, renewable resource. Our soy wax comes from soybeans grown right here in the USA. Soy wax does not contain petrol-soot and will not emit toxins. Our soy wax is completely free of animal-derived substances.


Phthalate Free Fragrance Oils
The fragrance oils that we use in our candles consist of both natural and synthetic aromatic ingredients. Natural fragrances are extracted from plants and flowers and synthetic fragrances are manufactured from man-made materials.

All of our fragrance oils are phthalate-free and adhere to RIFM and IFRA standards for safety and purity.

Lead Free Cotton Wicks
We use a flat braided cotton wick with paper threads woven into the cotton. Our wicks are lead and zinc free.
Disclaimer

Abboo Candle Co is not responsible for any injury or damaged caused by the use of our candles, wax melts or other products that we manufacture or distribute. 
Amazing!
I love the smell of this candle and cannot help but to burn it every time I read my book! My husband used to get migraines from the candles I burned in the house, but so far the two I have bought from this shop he actually enjoys and loves! Will definitely be purchasing more.
We are so happy you've found candles that both you and your husband can enjoy! Thanks so much for sharing!
Above and Beyond!!
I was very hesitant to purchase candles online prior to knowing what they smelled like, but I decided to go for it and I'm SO glad I did! Each of the four scents I purchased is WONDERFUL and Abboo candles burn flawlessly and cleanly, leaving my entire apartment smelling phenomenal and inviting. I can't rave enough about Abboo Candles and I pretty much swear to exclusively use these from here on out!
Thank you for taking a chance on us, Briana! We so wish the internet had a scratch & sniff feature - until it does, feedback like yours really helps!
Very unique scent, I really enjoy it!
This scent was actually a popular one in my household. My wife and kids loved the smell. I will be ordering more for the office.