Regular price
Sale price
$7.00
Unit price
per
Sale
Sold out
Low stock: 7 left
Prepare to fall head over heels for our Pumpkin & Chai Soy Wax Melts, a delightful creation from our Fall Collection that captures the essence of the season. Get ready to experience a cozy and comforting journey like no other.
Close your eyes and imagine stepping into a quaint countryside cottage. Inhale deeply and let the enchanting aroma of freshly baked pumpkin, kissed with hints of nutmeg and cinnamon, fill the air. As you take another breath, the creamy undertones of velvety vanilla dance their way into your senses, adding a touch of indulgence to this irresistible blend.
Our Pumpkin & Chai Soy Wax Melts immerses your space in a cozy and intoxicating embrace. It wraps you up in the comforting warmth of fall, inviting you to slow down, unwind, and savor the magical moments that the season brings.

Fragrance Notes: Nutmeg, Cinnamon, Pumpkin, Clove, Tea, Vanilla, Graham Cracker, Sugar


Hand poured and heart filled, our candles and wax melts are crafted with premium soy wax and infused with phthalate-free fragrance oils, ensuring a long-lasting and luxurious aroma that'll make your space feel oh-so-inviting. No need to worry about harmful toxins polluting your cozy home! Our candles are created with eco-friendly practices in mind, from responsibly sourced domestic soy wax to our recyclable packaging.
Share
View full details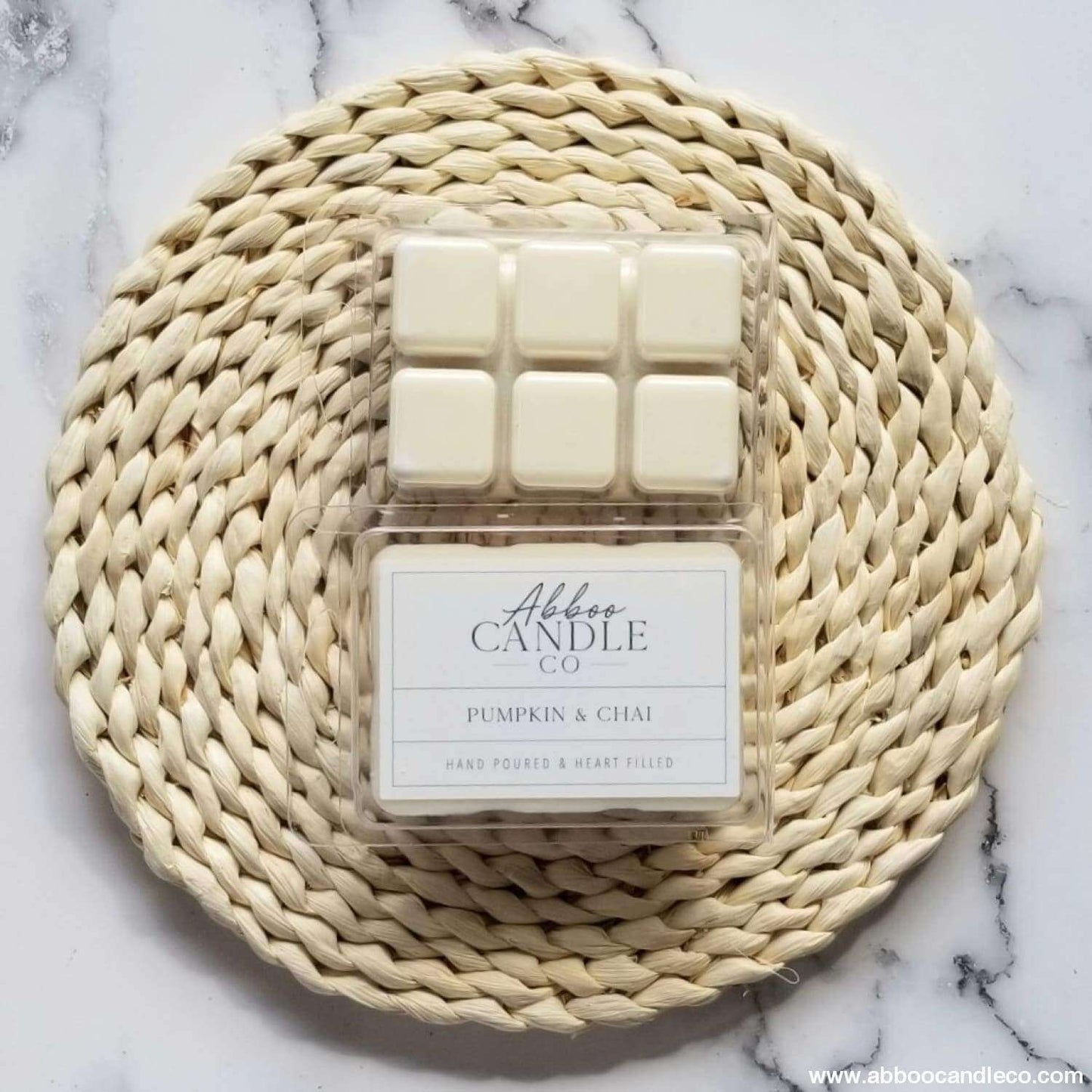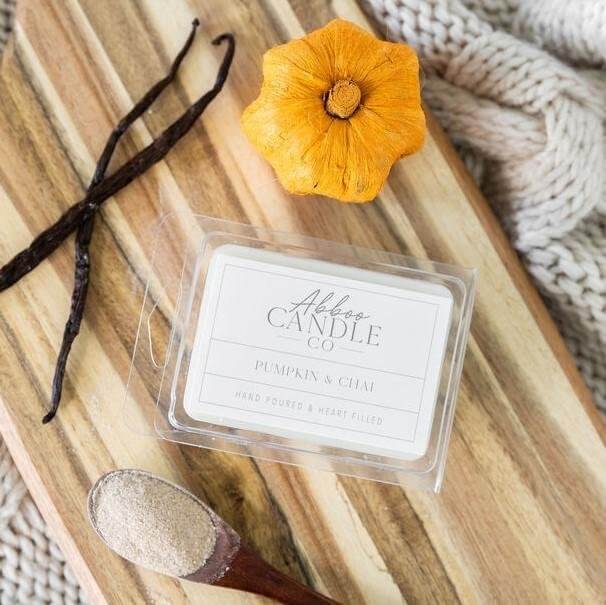 Collapsible content
Melt Care

• Remove from package before use.
• Only use in approved electric or tea-light warmers.
• Keep out of reach of children & pets.
• Do not leave unattended.
• Do not add water, melt on stove top or in non-approved appliances.
• Keep away from flammable materials.
• Do not flush or pour wax down drains.
Melt Sizes & Specs

• 3 oz (net weight 2.75 oz)
• Average 50 hours per pack - please note that the warmer itself impacts performance and this will vary
• Package Dimensions: 1.25" H x 4" L x 2.75" W
• Contains 6 soy wax cubes
• For use in electric or tea light wax melt warmers
Clean Ingredients

Biodegradable Soy Wax
Soy wax is biodegradable and comes from a natural, renewable resource. Our soy wax comes from soybeans grown right here in the USA. Soy wax does not contain petrol-soot and will not emit toxins. Our soy wax is completely free of animal-derived substances.


Phthalate Free Fragrance Oils
The fragrance oils that we use in our candles consist of both natural and synthetic aromatic ingredients. Natural fragrances are extracted from plants and flowers and synthetic fragrances are manufactured from man-made materials.

All of our fragrance oils are phthalate-free and adhere to RIFM and IFRA standards for safety and purity.

100% Recyclable Packaging
Our wax melt containers are made in the USA with PET (polyethylene terephthalate) plastic. PET is the most recycled plastic in the USA.
Disclaimer

Abboo Candle Co is not responsible for any injury or damaged caused by the use of our candles, wax melts or other products that we manufacture or distribute. 
Fall Must Have!
If you buy PSL, you need this! Even if you don't buy PSL, you need this! It's the perfect blend of pumpkin and spices put into a convenient wax melt. The fragrance from one melt lasts a long time too! I'll be "burning" this one regularly this fall.