Regular price
Sale price
$18.00
Unit price
per
Sale
Sold out
Low stock: 8 left
Surround yourself with the inviting warmth of this sophisticated, alluring aroma and drift away into a world of comfort and serenity. Our Cashmere & Cedarwood Soy Candle is a melody of sweet vanilla and sugar that bring balance to the soft cashmere and petal notes. Cedarwood and musky hints round out this unique fragrance.
This romantic blend has been a best-seller since 2019 and is sure to keep delighting!
Why wait? Add our Cashmere & Cedarwood Soy Candle to your cart and bask in its enchanting magic.
Fragrance Notes: Vanilla, Sugar, Rose, Jasmine, Orchid, Cedarwood, Vanilla, Musk

Hand poured and heart filled, our candles and wax melts are crafted with premium soy wax and infused with phthalate-free fragrance oils, ensuring a long-lasting and luxurious aroma that'll make your space feel oh-so-inviting. No need to worry about harmful toxins polluting your cozy home! Our candles are created with eco-friendly practices in mind, from responsibly sourced domestic soy wax to our recyclable packaging.
Share
View full details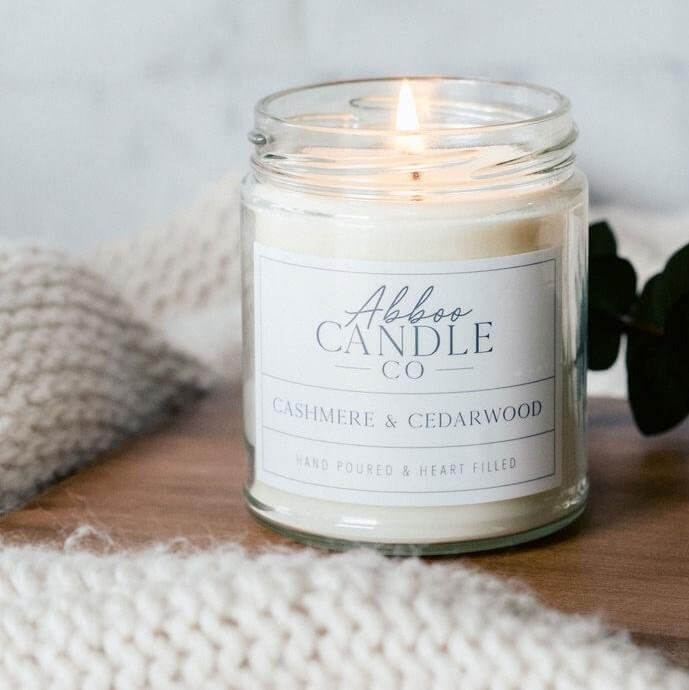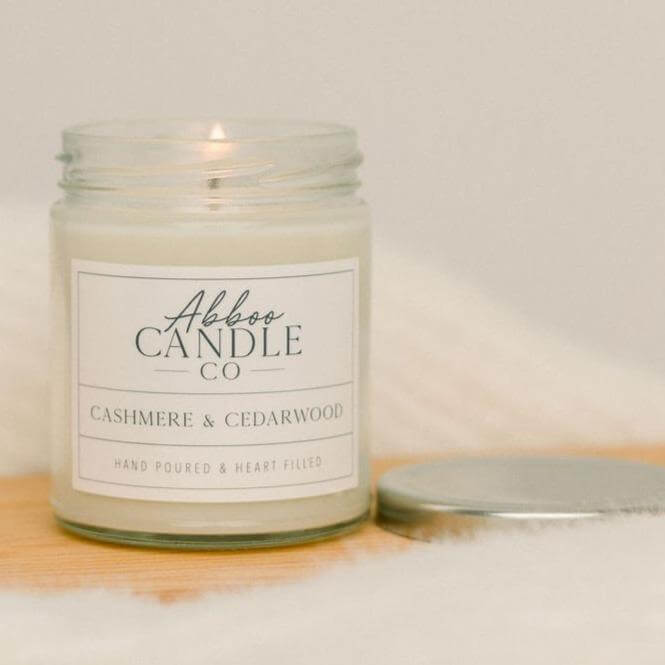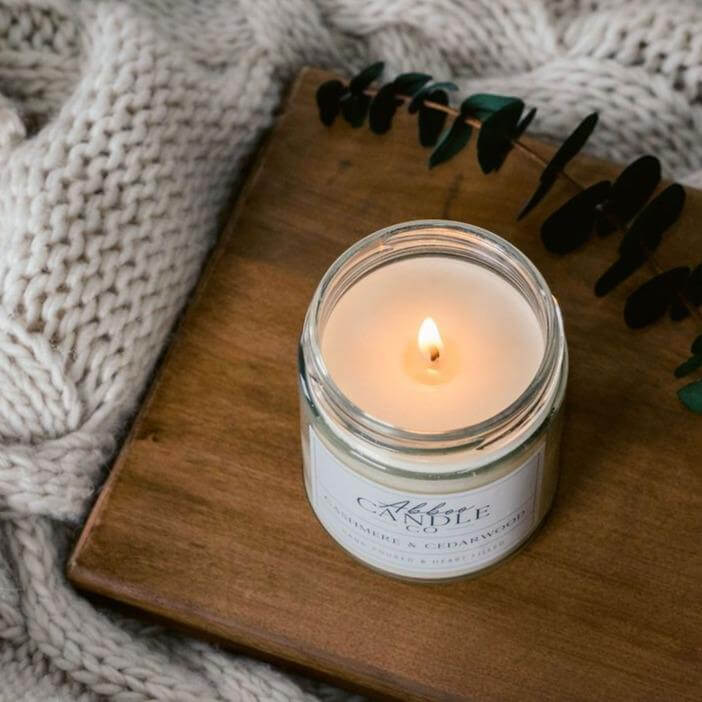 Collapsible content
Candle Care

• Always burn candles within sight and out of the reach of children and pets.
• Allow the wax to melt completely across the top of your candle before extinguishing to avoid tunneling.
• Keep candle wicks trimmed to 1/4-1/2" and remove the wick trimmings or debris prior to lighting.
• Discontinue use when 1/4"-1/2" of wax remains.
• Avoid burning candles for more than 4-6 hours at a time.
• Never touch a burning candle. Use a snuffer to properly extinguish flames.
• Do not flush or pour wax down drains.
• Keep a burning candle out of drafts or near/on anything that may catch fire.
Candle Sizes & Specs

Single Wick Candle
• 9 oz (7.5 oz net weight)
• Average 50 hours of burn time
• 3.5" height x 2.75" diameter
• Ideal for small to medium-sized spaces


3-Wick Candle
• 20 oz (17 oz net weight)
• Average 90 hours of burn time
• 3.63" height x 4" diameter
• Ideal for medium to large-sized spaces
Clean Ingredients

Biodegradable Soy Wax
Soy wax is biodegradable and comes from a natural, renewable resource. Our soy wax comes from soybeans grown right here in the USA. Soy wax does not contain petrol-soot and will not emit toxins. Our soy wax is completely free of animal-derived substances.


Phthalate Free Fragrance Oils
The fragrance oils that we use in our candles consist of both natural and synthetic aromatic ingredients. Natural fragrances are extracted from plants and flowers and synthetic fragrances are manufactured from man-made materials.

All of our fragrance oils are phthalate-free and adhere to RIFM and IFRA standards for safety and purity.

Lead Free Cotton Wicks
We use a flat braided cotton wick with paper threads woven into the cotton. Our wicks are lead and zinc free.
Disclaimer

Abboo Candle Co is not responsible for any injury or damaged caused by the use of our candles, wax melts or other products that we manufacture or distribute. 
My Favorite Scent
This is the candle that started my obsession with this company. It is my favorite scent. I received it as a gift and I had to buy more! It's a perfect blend of warm and cozy scents without being too heavy.
Thank you for the kind review!
Romantic
This is an excellent scent for those romantic evenings with your significant other. Its soft and cozy
Yaaaaaaas, girl!!! We love a cozy, romantic night in and are happy to hear our candles help create that for you!
These candle has a strong scent when turn light on and faster aroma our living room. Thank you for your supporting small business.
Sweet and relaxing
This scent has such a calming effext for me. It's just relaxing and comforting, without being overwhelming. Everyone else in my life that has smelled it has loved it, too.
Thank you so much! We love that we're able to make your day a little bit calmer and relaxed. :)
Love these candles!!
These candles are amazing!! My daughter at handmadehoosier.com got me started on these and I've never looked back. My favorite by far is cashmere and cedar wood. I love that I'm supporting a little business.
Thank you for your continued support! Alli is one of my favorite maker friends and I love collaborating with her! So glad you're enjoying the Cashmere & Cedarwood too!